Classical Guitar Part Names
Before you can start playing the classical guitar you need to know a little about the guitar parts so that you know what we are talking about when we talk about the bridge or the fret. When you start playing, your left hand will be placed on the frets on the fretboard and your right hand will play the strings above the fingerboard. The tuning pegs are critical guitar parts as they are where you tune your guitar. Have a look at the image of guitar below and become familiar with the guitar parts labelled in it. Spend some time looking at your own guitar and naming the guitar parts.
I'm getting a lot of messages from people coming here because they want to learn to play guitar as part of worship. If this is you, you might want to join Aaron Anastasi's programme. Aaron is a musician and a worship leader. He put together a step by step programme for aspiring Christian musicians. If you're interested, you can use the exercises and advice in learn-classical-guitar-today to develop your finger strength and dexterity and Aaron's lessons to work on strumming and worship music. 
When looking at guitar parts, the most distinguishing factor is the quality of wood that the body is made of as it determines, to a large extent, the quality of the guitar. Spruce and cedar are the best woods for classical guitars, although there are other woods such as mahogany and maple that are also used and are well liked by many players.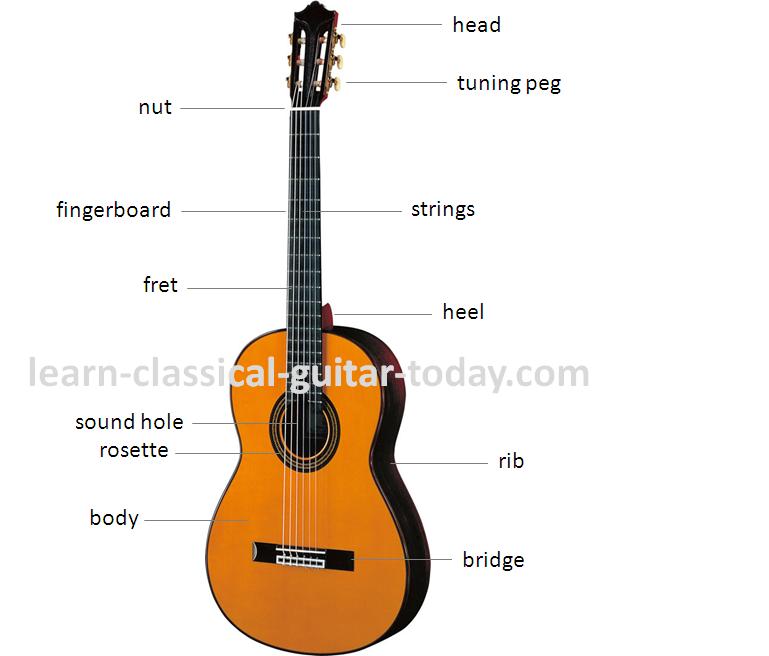 If you have not already bought your own guitar, click here for advice on buying a beginner classical guitar and here for guitars recommended for beginners (price range about $100 - $250). You could pretty much pick any of these classical guitars with full confidence, knowing that you are getting excellent value for money and a beautiful guitar that will take you well down the road into your guitar playing. 

A beginner to intermediate guitar that is hard to beat in terms of price/ value ratio is the The Yamaha C40 which is my recommended entry level classical guitar. The Cordoba C7 Iberia is my recommended beginner to intermediate player guitar. It is also the guitar that I suggest my students buy as I know that they won't quickly outgrow or out-develop (in terms of their dynamic range and tonal demands) the capacity of the guitar.
The Yamaha C40 is hard to beat in terms of its price/ value ratio. Its spruce tops and back produces a clean, clear sound and its rosewood fingerboard is a pleasure to work on. Generally I advise that beginner classical guitar players stay away from guitar packages as these are generally of pretty poor quality in terms of playability, the quality of the sound and the durability. Especially as the vast majority are made of plywood. Go to Ten Tips for Buying a Classical Guitar for further discussion on the problems with plywood guitars. The one marked exception is The Yamaha C40 Classical Guitar Beginner Package which has outstanding quality and is in my opinion one of the best guitars and guitar packages that you can get in this price range. The Yamaha C40 Classical Guitar Beginner Package contains the Yamaha C40 Classical Guitar, a gig bac, guitar method book and DVD and digital tuner. This is definitely good value and all this for only a few dollars more than the price of the guitar alone.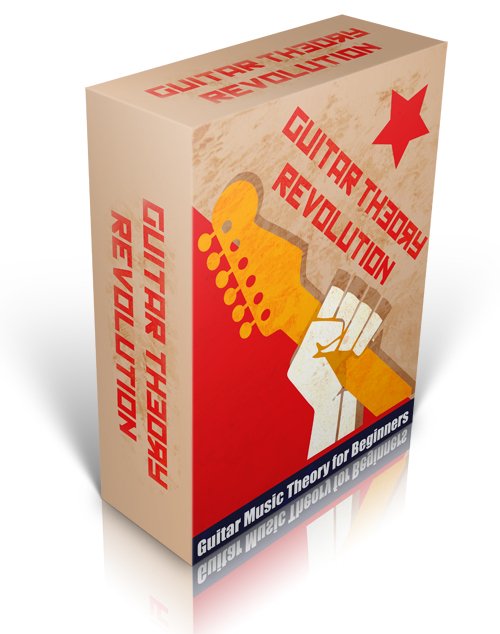 You'll need to go a little deeper into music theory as you proceed. The best online resource for this is Guitar Theory Revolution. It recognises that music theory is very hard for guitarists because music theory has till now been located in the piano paradigm. The Guitar Theory Revolution overthrows the piano paradigm that is holding you back and embraces the attributes of the guitar to unpack music theory. In fact, it goes further and allows you to see that the guitar is one of the best instruments for learning theory. 

Guitar Basics
You can scroll the rest of the guitar basics pages by scanning the list below, or scrolling through the navigation bar
Leave me a comment, share your experience and let me know what you think